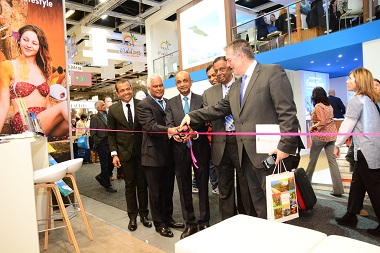 The Sri Lanka Pavilion at the international tourism exhibition ITB 2017 in Berlin, Germany, has been inaugurated on 8th March 2017 with the participation of Hon. John Amaratunga, Minister of Tourism Development of Sri Lanka.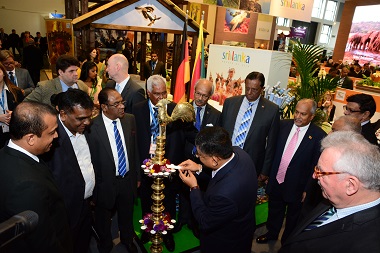 Hon. Jürgen Klimke and Hon. Michael Donth, both Senior Members of the German Bundestag, P.M. Withana the Chairman of the Sri Lanka Tourism Promotion Bureau, Sri Lankan Ambassador to Germany Karunatilaka Amunugama as well as several other business leaders from the global and Sri Lankan tourism industry also participated at this event.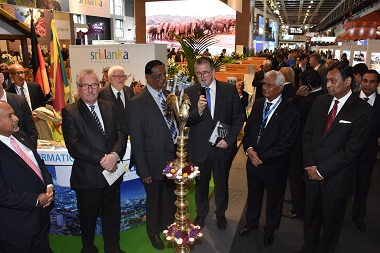 While recognizing the contributions of the Sri Lanka Travel Industry to achieve the targets set for the German market, Hon. John Amaratunga invited the German counterparts to guide and to work closely with his Ministry and the Sri Lanka Tourism Promotion Bureau.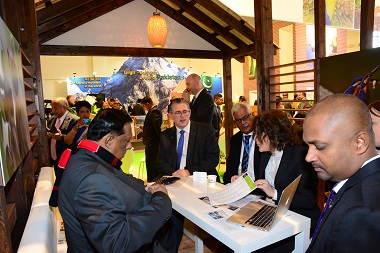 Addressing the visitors after the lighting of the traditional oil lamp, Bundestag member Mr. Klimke said that Sri Lanka is one of the "rare and grand examples for peace building and political stability" in the world. He added that the boom of the tourism industry was especially great to observe, as it went hand in hand with the process of reconciliation on the island. His colleague, Mr. Donth commended the Sri Lankan tourism industry for its great performance and wished the tourism in Sri Lanka all the best for its future development.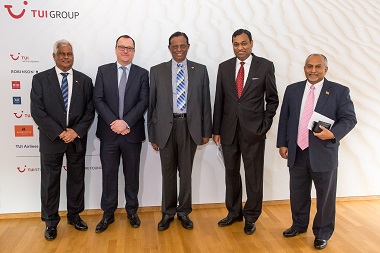 Ambassador Amunugamathanked the German Government for its support to strengthen economic cooperation and requested German and Sri Lankan tourism professionals to develop strong partnerships to enhance visitor numbers from Europe.
With more than 150 representatives of the Sri Lankan tourism industry, the Sri Lanka Pavilion is one of the major attractions of the ITB 2017, the biggest exhibition of the tourism industry worldwide. More than 10 000 exhibitors from 184 regions and nations exhibit the actual trends and developments in the tourism industry. More than 180 000 visitors are expected to visit the ITB 2017 until 12th March 2017.
With several reminding the visitors of the landscapes and buildings of Sri Lanka, including a live water fall, a tea bar with pure Ceylon tea available for the visitors and other attractions, the Sri Lanka Pavilion offers visitors every opportunity to experience the feeling of a real Sri Lankan holiday. The Sri Lanka Pavilion has been organized by the Sri Lanka Tourism Promotion Bureau with the collaboration of the Embassy of Sri Lanka in Berlin.
The Sri Lankan Minister also had the opportunity to meet the German Minister for Economic Cooperation and Energy during his visit. Hon. John Amaratunga extremely busy programme includes meetings with senior German Travel Industry personal, German media as well as listening to the Sri Lankan industry leaders on the issues pertaining to the industry.